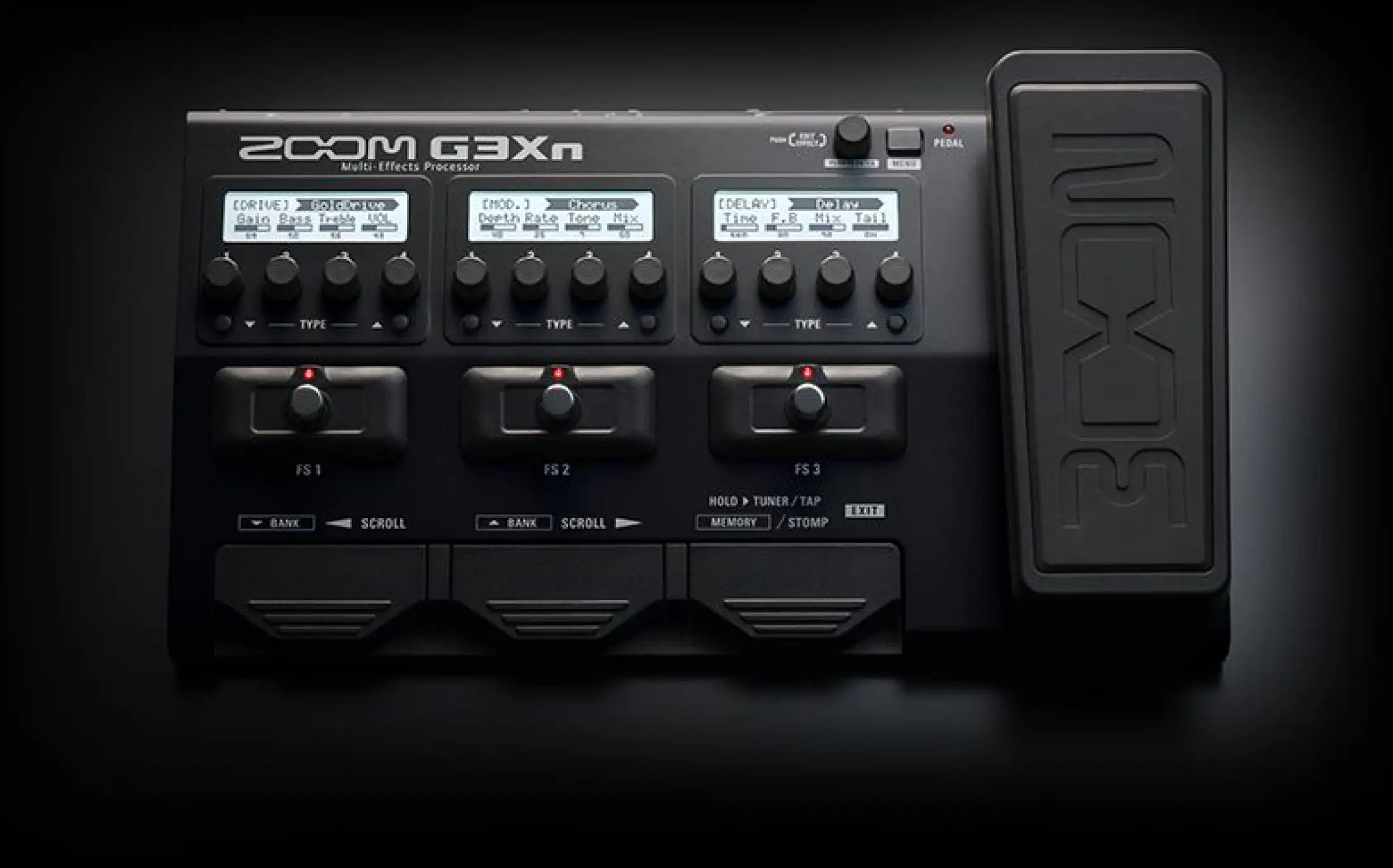 Intuitive Multi-Effects Processor with Expression Pedal for Guitarists
If you're a guitarist, you know how important it is to have the freedom and flexibility to create your own sound. The Zoom G3Xn Multi-Effects Processor removes any barriers in your way.
The G3Xn is a genre-defying multi-effects processor that gives you the versatility you need to experiment with new sounds and playing styles. Its built-in expression pedal, 80 second Looper, faithful amp and cabinet emulators, and extensive selection of effects and patches make it an essential addition to any pedalboard. With the G3Xn, breaking boundaries and achieving great sound has never been easier.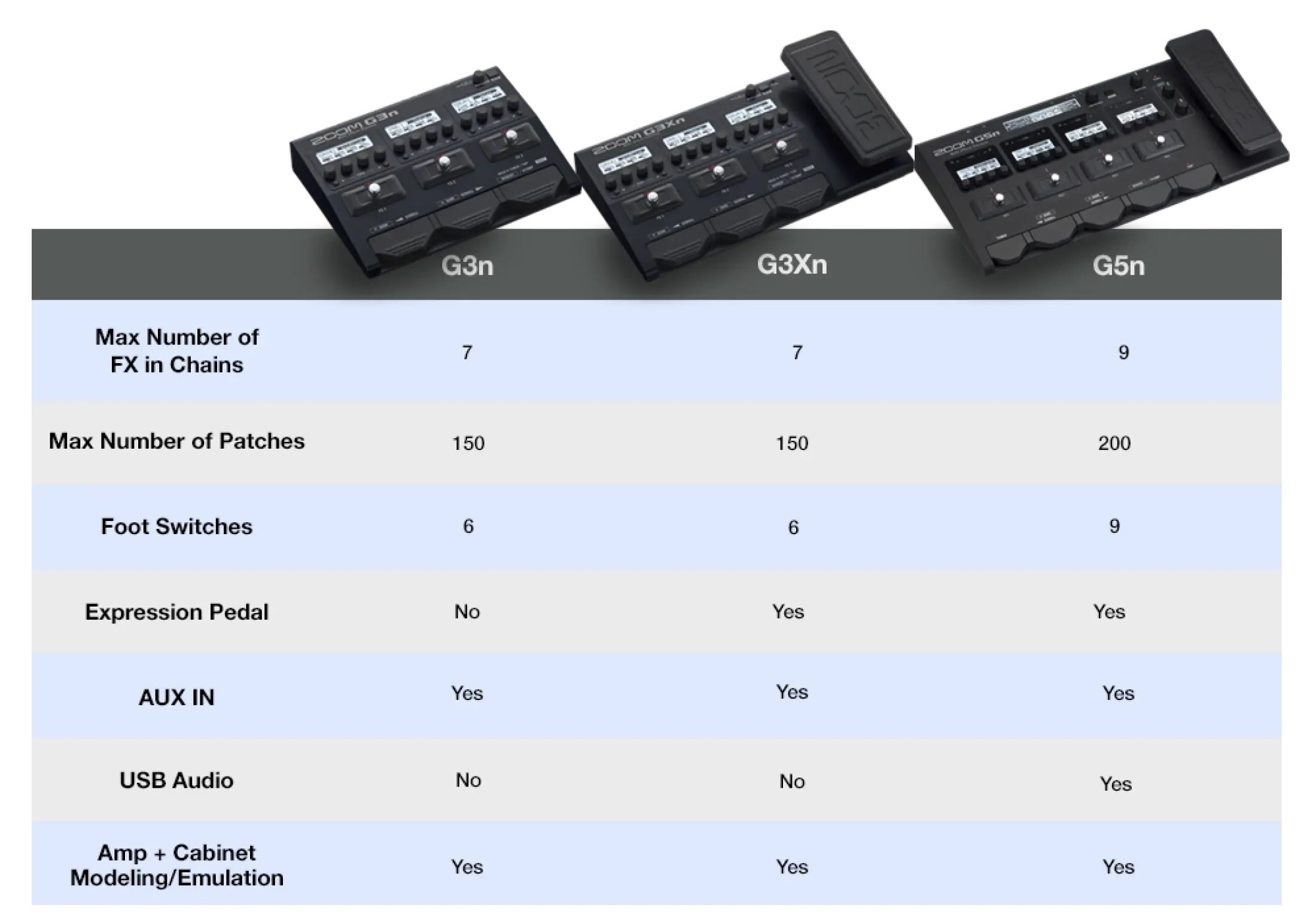 Boutique Pedals, Legendary Amps, and Superior Effects
The G3Xn is pre-loaded with 70 expertly crafted and assembled DSP effects (68 effects, 1 looper pedal, and 1 rhythm pedal), plus 10 of the most realistic amp/cabinet emulators we've ever created. We've loaded the G3Xn with essential guitar sounds like overdrive, distortion, compression, EQ, delay, reverb, flanging, phasing, vibrato, and chorusing. Unique multi-effects such as Seq Filter, Reverse Delay, HD Hall, and OSC Echo are also included.

Create Complex Signal Chains
Use up to seven effects and amp/cabinet models simultaneously, chained together in any order you like. It's like having hundreds of fully loaded pedalboards all in one compact and easy-to-use device.
Accurate, Realistic Amp and Cabinet Emulation

Choose from five classic amp models and adjust the sound exactly as you would with the knobs and switches of the real thing—and then pair your amp with one of the five new cabinet emulators to complete the sound.
Specifications:
70 (68 effects, 1 looper pedal, and 1 rhythm pedal) onboard
high-quality digital effects, including distortion, overdrive,
EQ, compression, delay, reverb, flanging, phasing, and chorusing
5 new amp emulators plus 5 cabinet emulators
75 custom-designed factory patches
Free ZOOM Guitar Lab Mac/Windows software allows
downloading of additional effects and patches
Use up to 7 effects simultaneously, chained together in
any order
3 stompbox switches allow effects to instantly be brought
in and out
Intuitive user interface
3 independent editing displays
AutoSave function for automatic saving of all patch parameters
Onboard chromatic tuner with dedicated footswitch supports
all standard guitar tunings, including open and drop tunings
Tuner range of 435 – 445Hz
Stereo/mono Looper allows recording of up to 80 seconds of
phrase recording
68 built-in rhythm patterns that can be used in conjunction
with the Looper
Tap Tempo with dedicated footswitch
Input jack accepts standard guitar cable
Auxiliary stereo input jack for connection of smartphones
and music players
Dual output jacks for connection to guitar amps and mono
or stereo PA systems
Stereo headphone output
Included AC adapter
1 YEAR WARRANTY