The best-selling amPlug2 headphone guitar amp is now available in three new models: "Clean," "Blues," and "Lead."
The overwhelmingly popular amPlug2 headphone guitar amps make it easy for you to enjoy full-fledged amp sound anytime, anywhere; simply plug them directly into your guitar and connect your favorite headphones. The lineup has now been expanded with three new models: "Clean" and "Blues" are all-new models, while "Lead" revives a popular amPlug model from the first generation. Each amPlug 2 features carefully designed analog circuitry.
"Clean" provides a fat, boutique-inspired clean sound that's ideal for jazz and fusion"Blues" gives you the sound of an American style amp pushed to overdrive"Lead" is an upgraded model of the first-generation amPlug Lead that was popular for its searing, high gain tone.
No need for a guitar cable! Plug it directly into your guitar; the latest version of this headphone guitar amp is the fastest way to get authentic amplifier sound.
 The fully-analog circuit has been totally reworked for an even clearer and more present sound!
 "AC30" provides the AC30 top boost sound.
 "Classic Rock" delivers the classic crunch of a UK-made 100W amp.
 "Metal" gives you the extreme high-gain sound of a US-made amp.
 "Bass" is designed specifically for low frequencies, offering a wide-range response.
 Each model provides three amp modes, giving you even more variety.

 Nine selectable effects (Chorus x 3, Delay x 3, Reverb x 3) are built into the guitar-type models.

 "Bass" model includes nine built-in rhythm patterns for convenient and effective practicing.
 A multi-stage gain circuit featuring VOX's proprietary analog technology perfectly reproduces the complex distortion created by a vacuum tube amplifier.
 New folding plug mechanism rotates 180 degrees to fit any guitar
Play anytime, anywhere with up to 17 hours of battery life
Use the AUX input to jam along with your smartphone, tablet, or MP3 player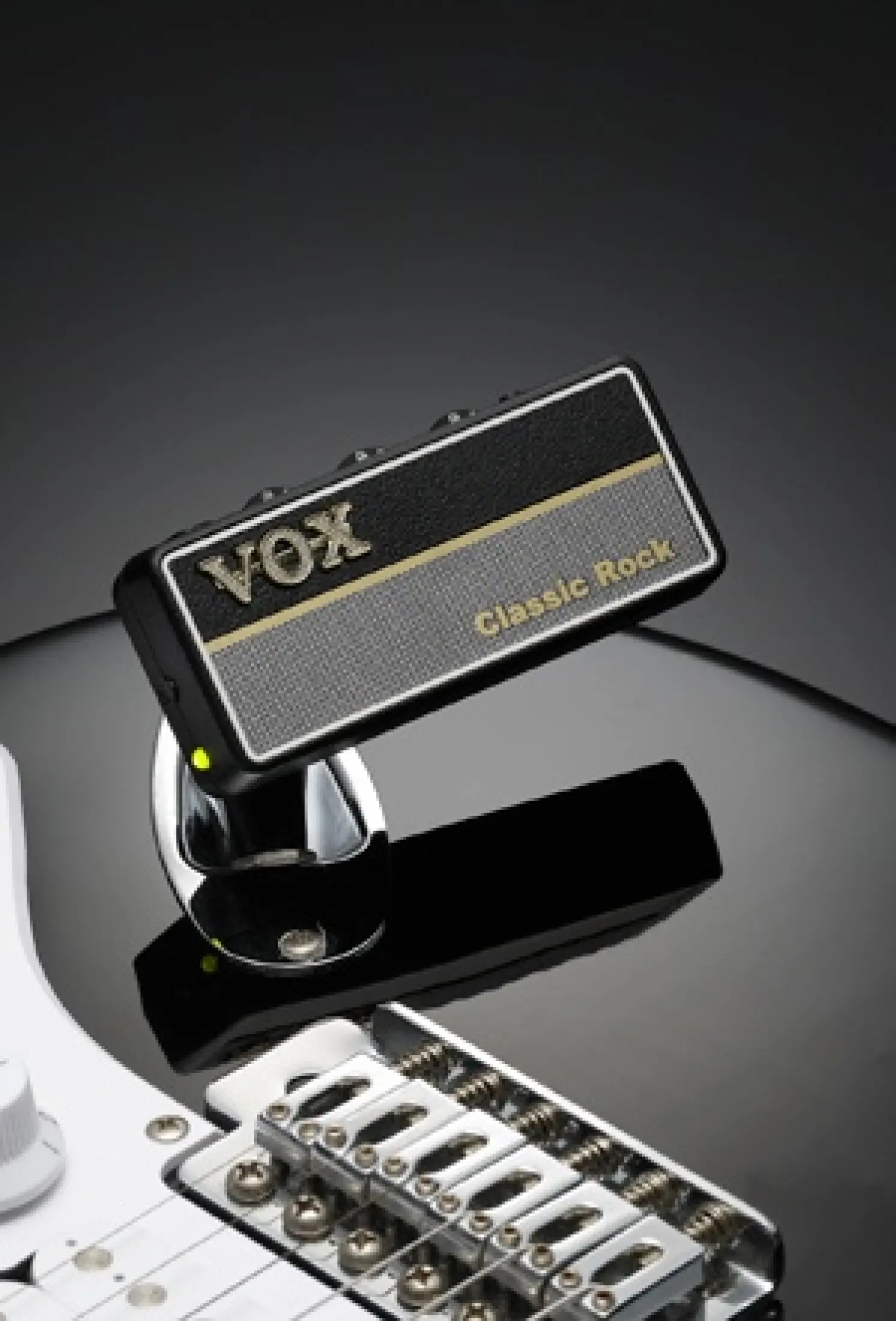 Offering the easiest way to enjoy true analog amplifier sound in your headphones,
The amPlug series has been a bestseller since it first appeared in 2007.
With amPlug 2, the crucial analog circuit has been drastically improved, and each model now provides three modes. Guitar types provide multi-effect functionality, and a rhythm function has been added to the bass type. A foldable plug mechanism that rotates 180 degrees and an auto power-off function are additional features that contribute significantly to improved convenience and ease of use. The amPlug is the simplest way to get serious sound; occupying virtually no space, it's an ideal choice for any guitarist or bassist.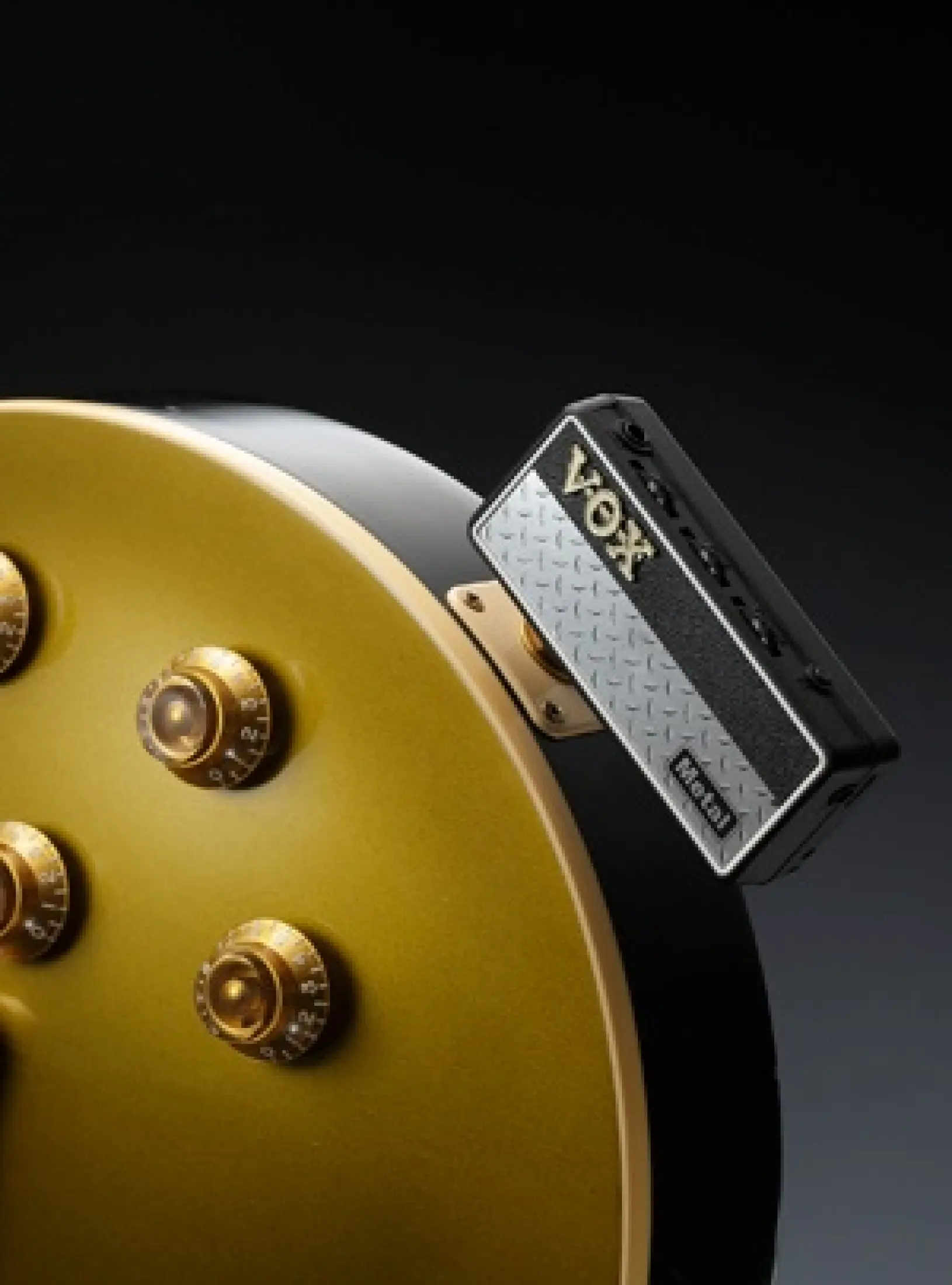 Plug the amPlug into your guitar and enjoy serious sound. It's that simple!
To use the palm sized amPlug, just plug it into your guitar and grab your headphones. Playing your guitar or bass with amPlug results in serious amp sound that's overflowing with presence. A wide range of variation is available, as the lineup consists of four models: "AC30" provides the AC30 top boost sound, "Classic Rock" gives you the classic crunch sound of a UK-made 100W amp, "Metal" delivers the extreme high-gain sound of a US-made amp, and "Bass" is designed specifically for bass
A completely analog design accurately simulates the circuits of classic tube amplifiers resulting in a rich, detailed sound.
While retaining the fully-analog multi-stage gain circuit, additional refinements have been made toward reproducing the sound and performance of real tube amps. These refinements include factors such as reproducing the way a tube amp responds to different guitars, pickups, and volume as well as recreating the sense of air movement within the speaker cabinet. As a result, the carefully selected circuit structure and components of the new amPlug delivers a more highly evolved sound
In addition to its wide-range design, "Bass" now features VOX's new and original Bassilator circuit, reproducing the powerful ultra-low punch that is distinctive of a bass amp.
Nine selectable effects provide a great range of sonic variation.
The second-generation amPlug adds a variety of new functions. To give you more variety, each amp three provides three modes. "AC30" provides use of a tremolo circuit, "Classic Rock" features a mid-boost, "Metal" gives you mid-cut, and "Bass" allows the amount of gain to be switched. The three guitar-type models also provide 9 selectable effects with three types of Chorus, Delay and Reverb, while "Bass" contains nine different rhythm patterns. With versatile sound and functionality that is uncommon of such a compact unit, these models enable you to get even more serious about your guitar or bass playing.
Foldable plug that rotates 180 degrees
The plug that you insert into your guitar can rotate in five steps up to 180 degrees, enabling it to be adjusted for optimal visibility. This design also allows even more compact storage in your guitar's case or gig bag.
Auto power-off function ensures longer battery life
We've added a function that automatically turns off the power even, if you leave the unit with the power on. Since this function works by detecting operations or audio signals within a certain length of time (30 minutes), it has absolutely no effect on normal use. This feature further enhances the convenience of the amPlug.
amPlug is the most convenient way to play.
With the amPlug providing up to 17 hours of battery-powered operation, you'll be able to play anytime and anywhere. Since there's no need for a guitar cable, it's a great way of practicing at home, or warming up before a live performance or while on tour. Also, there's an AUX in jack for your MP3 player, so you can jam along with your favorite songs.
Features: 
Connections: Headphone Out,
AUX In
Power Supply: AAA batteries x 2Battery Life:
 amPlug 2 AC30/ amPlug 2 Metal / amPlug 2 Classic Rock:
 11 hours (With alkaline batteries, FX on)
 17 hours (With alkaline batteries, FX off)
 4 hours (With zinc-carbon batteries, FX on)
 9 hours (With zinc-carbon batteries, FX off)amPlug 2 Bass:
 11 hours (With alkaline batteries, RHYTHM on)
 17 hours (With alkaline batteries, RHYTHM off)
 4 hours (With zinc-carbon batteries, RHYTHM on)
 9 hours (With zinc-carbon batteries, RHYTHM off)
6 Months Warranty