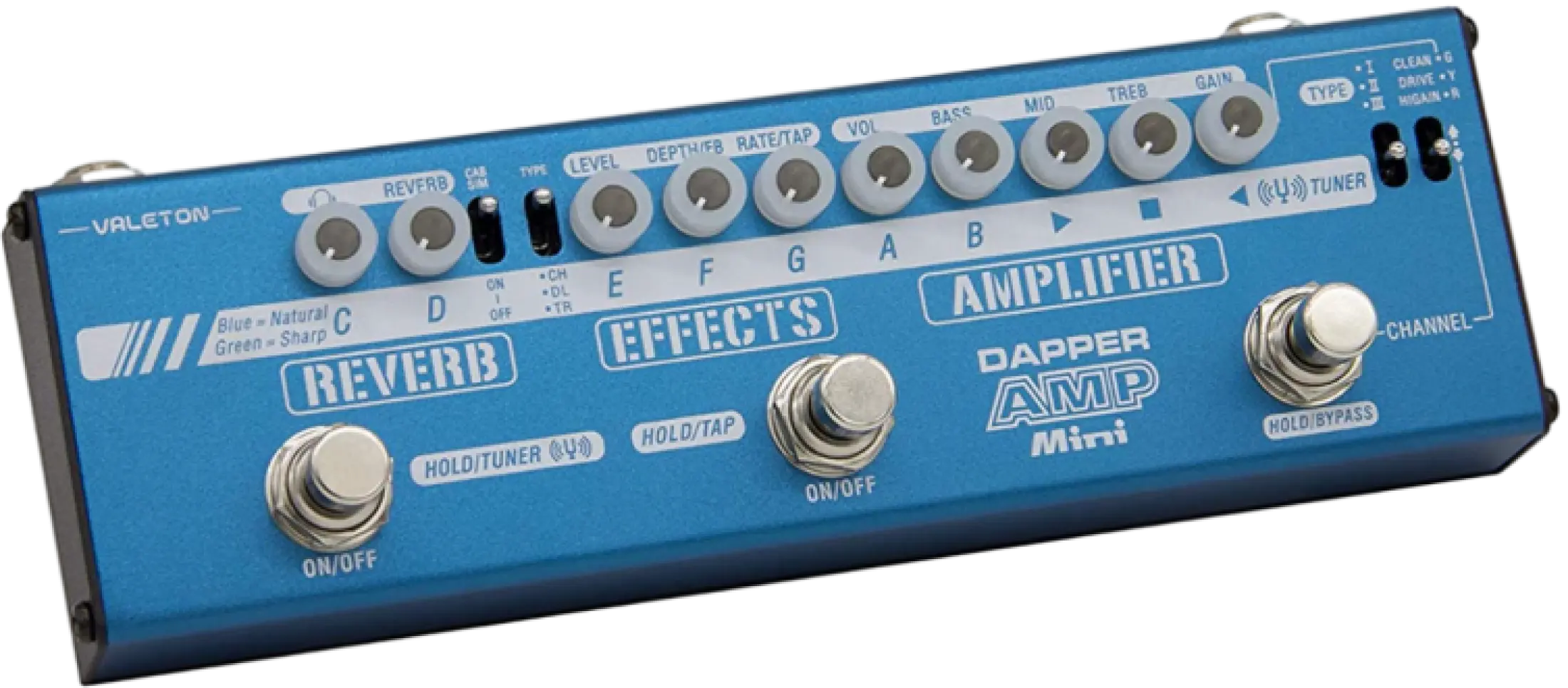 Dapper Amp Mini is a seriously potent effects strip that combines legendary high quality amp tone and fine tuned effects in one.
This mini strip has everything you need:
TUNER:
First in line is a stealth fast and accurate tuner so you can play confidently in tune.
AMPLIFIER:
The AMPLIFIER module combines 9 legendary vintage/modern amp sounds in one, ranging from clean to higain. Use the two 3-way toggles to pick the classic amp sound you like best! All settings in this module will be automatically saved when selecting channels.
EFFECTS:
Use the EFFECTS module to beef up your solos or lend dynamics to your chords.
Select from chorus, delay and tremolo effects. Hold the footswitch to enable the
Tap Tempo function.
REVERB:
Give your song some sweet depth with the REVERB module. This one-knob wonder recreates the ambience of a performance hall with natural decay.
CAB SIM AND PHONES:
The CAB SIM switch turns the cab sim on/off in the OUT jack. Switch the CAB SIM ON to get an amp cabinet sound, so you can run Dapper Amp Mini right to the PA or audio interface and sound like you're playing through the big rig. Switch the CAB SIM OFF when running Dapper Amp Mini straight to your amp.
Plug your earphones into the PHONES jack for silent jams. The PHONES cab simulator is "always on", regardless of whether the CAB SIM toggle is on or off.
FEATURES :
● TUNER module with fast, accurate tuning
● AMPLIFIER module containing 9 high quality legendary amps ranging from vintage to modern
● Versatile EFFECTS module with fine-tuned chorus/delay/tremolo effects and tap tempo function
● One-knob REVERB module with natural, clear decay
● Switchable CAB SIM for recording or direct-to-PA
● Adjustable PHONES output with built-in cab simulator