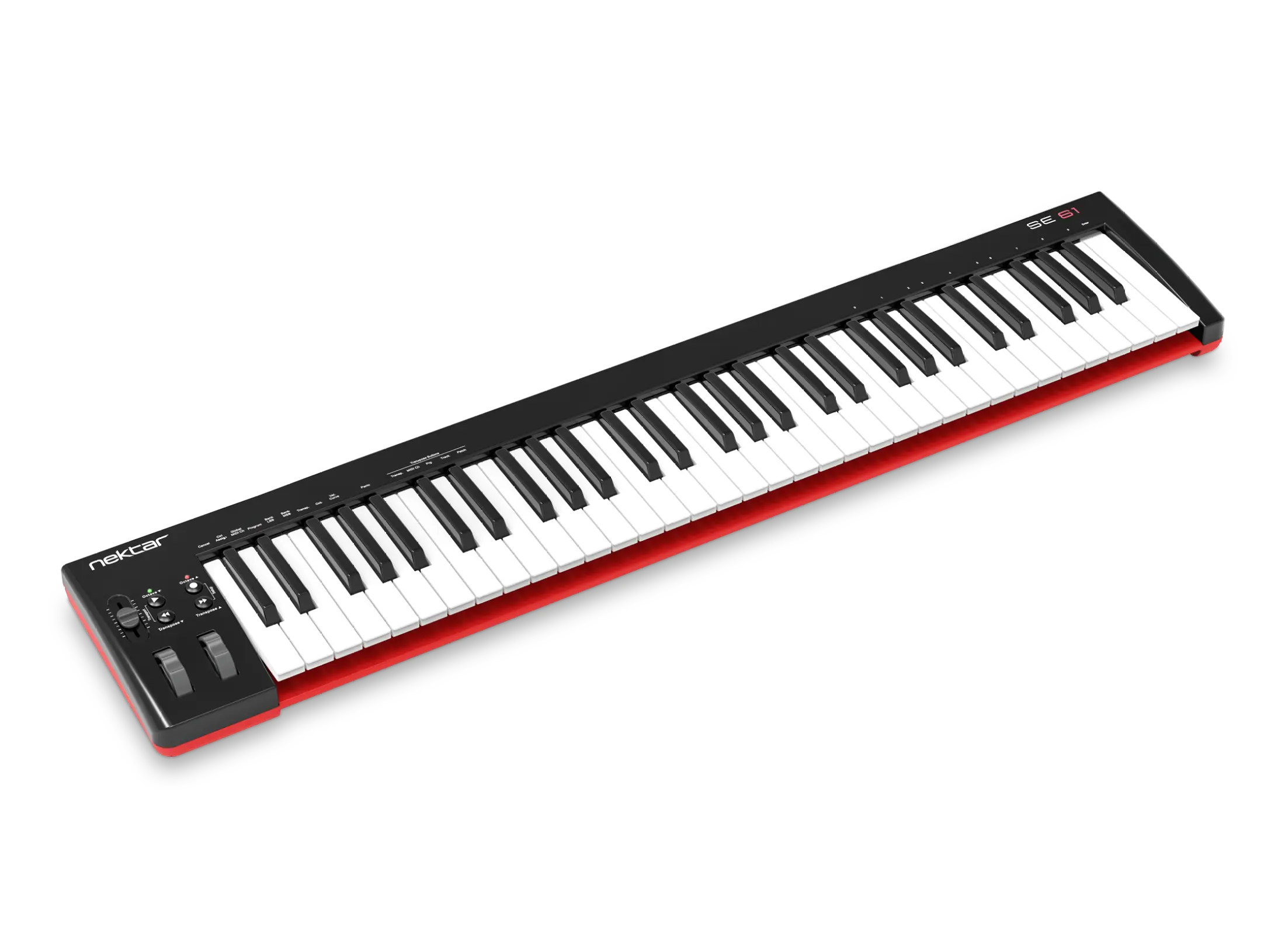 FEATURES
PLAY– The keys are a keyboard controller's most important feature. So we made sure that the SE models have keys that are fun and expressive to play: Their synth-action keybeds have 61 velocity-sensitive full-size keys with a defined and firm feel.
PERFORM– No matter if you want to play a complex solo in the style of Herbie Hancock or are just trying to make an EDM wobble bass more lively by adding modulation: the SE's large Pitch Bend and Modulation Wheels will get you there.- They have a tight grip and offer just the right resistance. For piano-style sustain effects, you can connect a switch or pedal to the foot switch socket on the back of SE61.
CONTROL– Four buttons and one MIDI-assignable fader to the left of the keys make the SE range MIDI Controllers even more flexible: Shift the keyboard up or down -3/+4 octaves with multi-colored LED indicators showing the exact status. Or transpose the keys +/- 12 semitones with the transpose buttons right below.- These buttons can easily be reassigned to switch MIDI channel, change MIDI programs or select tracks and browse patches when DAW integration is active. Better still, pressing a key combination change the Octave and Transpose buttons function to send out MMC transport functions so you can activate start, stop and record directly from your keyboard.
SIMPLY PLUG IN: SETUP & iOS– SE MIDI Controller keyboards are USB class compliant and don't require a driver to operate. Installation and connection is easy; just plug the keyboard in to a USB port on your computer. You can also connect an Impact SE61 keyboard to an iOS device using the optional Apple USB camera connection kit. A 1/4″ input jack allows you to add a foot switch pedal for sustain or sending MIDI messages.
CAPTURE YOUR IDEAS BITWIG 8-TRACK INCLUDED

– You can start producing, performing, and designing sounds like a pro from day one with the included Bitwig 8-Track DAW. It includes over 50 software instruments and effects for use on up to 8 audio or MIDI project tracks, and you can use any 3rd party VST plug-ins you might own, too. The 'Bitwig Essentials Package' comes as part of this package as well, featuring a highly versatile handpicked selection of loops, clips and samples, to make it even easier to get you started.
Specifications:
61 velocity-sensitive full-size keys (synth-action)
4 velocity curves + 3 fixed ones
4 buttons: Octave Up/Down, Transpose Up/Down
30 mm volume fader
Transport control via secondary button function*
Works with any DAW or MIDI music software on OS X, Windows and Apple iOS.
USB port (USB-powered),
1/4" TS jack foot switch input (footswitch optional)
USB class compliant (no driver needed)
SE61 : Windows XP, Vista, 7, 8, 10 or higher. Mac OS X 10.5 or higher, Linux (Ubuntu).
Compatible with Apple iOS (requires optional camera connection kit)Nektar DAW Integration: Windows Vista, 7, 8, 10 or higher. Mac OS X 10.7 or higher. (All other requirements dependent on the DAW software used, please consult the respective manual for further details)
SE61 : 98.5 cm (L) x 19.7 cm (D) x 6.9 cm (H), 3 kg
1 YEAR WARRANTY