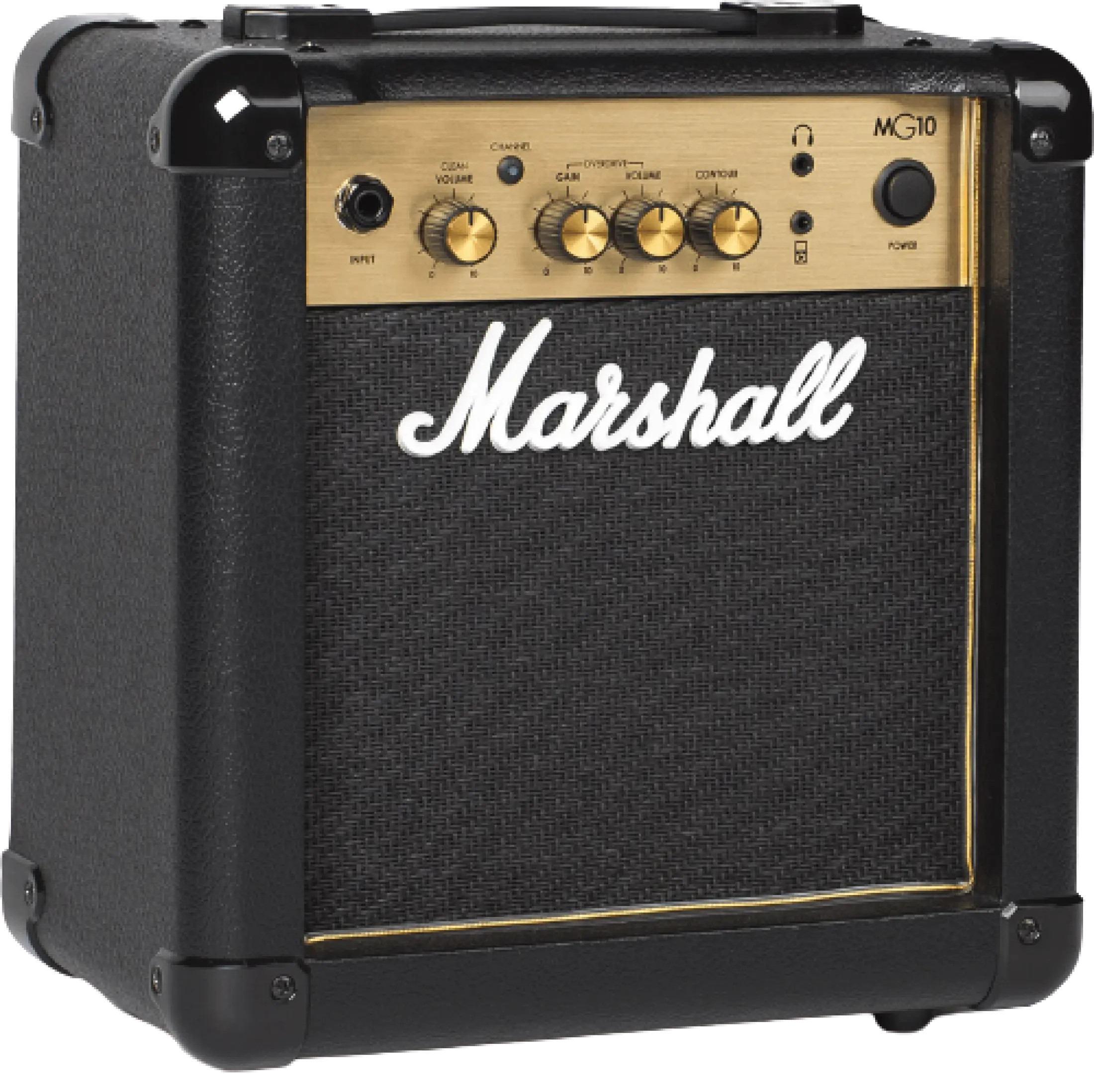 The Marshall MG10 MG Gold 10-Watt Guitar Amplifier Combo in Gold is a cool little amp that is ideal for practising and jamming with at home and on the road. Boasting the same robust craftsmanship that we've come to expect from the team at Marshall, the MG10 MG Gold is as tough and they come yet looks absolute stunning. Most importantly, it sounds like a beast!
RICH MARSHALL TONES
There is nothing quite like the roar of a Marshall amp when cranked or the smooth delivery when playing clean licks. The MG10 is equipped with a custom voiced 6.5-inch speaker to translate the 10-Watts of power with supreme efficiency.
The MG10 has a split channel setup with a Channel switch that allows you to change between Clean and Overdrive via the front panel. A handy LED indicator shows you whether you are in Clean (Green) or Overdrive (Red). The Clean channel offers everything from subtle low volume notes that swell with saturation when the volume is cranked up for a smooth yet confident output. When you slip into Overdrive, the additional Gain and Volume controls come into play, enabling you to ramp up the more aggressive side of the amp.
The Contour tone control allows you to finely tweak your output by adjusting highs and lows in relation to the mid-range. If you want to delve into some thrash metal territory, simply crank up the gain, scoop out the mids and shred to your heart's content.
CONNECTIVITY
The headphone out connection allows you to practise in silence, by muting the internal speaker so that you can play on into the wee hours. The additional line input allows external audio sources to be connected, so the you can jam along to your favourite songs, practise your chops along with a backing track, or simply listen to some tunes through a beefy amp and speaker.
SOLID BUILD QUALITY
The Marshall MG10 MG Gold 10-Watt Guitar Amplifier Combo is housed in a solid wooden enclosure, which is covered in Marshall's durable black vinyl with reinforced corners to protect against unwanted bumps and knocks. The stylish yet subtle gold panelling is classic Marshall, with gold beading around the speaker grille cloth that proudly bears the Marshall logo. Superb!
Features:
Cool little combo that is perfect for jamming and band practise
Awesome Marshall tones in compact form creates a fantastic amp
Very easy to setup – simply plug-in and play
Contour control setting makes it easy to shape your sound
Emulated headphone output mutes speaker for silent practise
MP3/line input for jamming and practising along to tracks
Channel select switch for selecting clean or overdriven channels
Custom voiced speaker delivers crushing tones – just the way you like
Includes fixed power cable to get you up and running immediately
1 YEAR WARRANTY