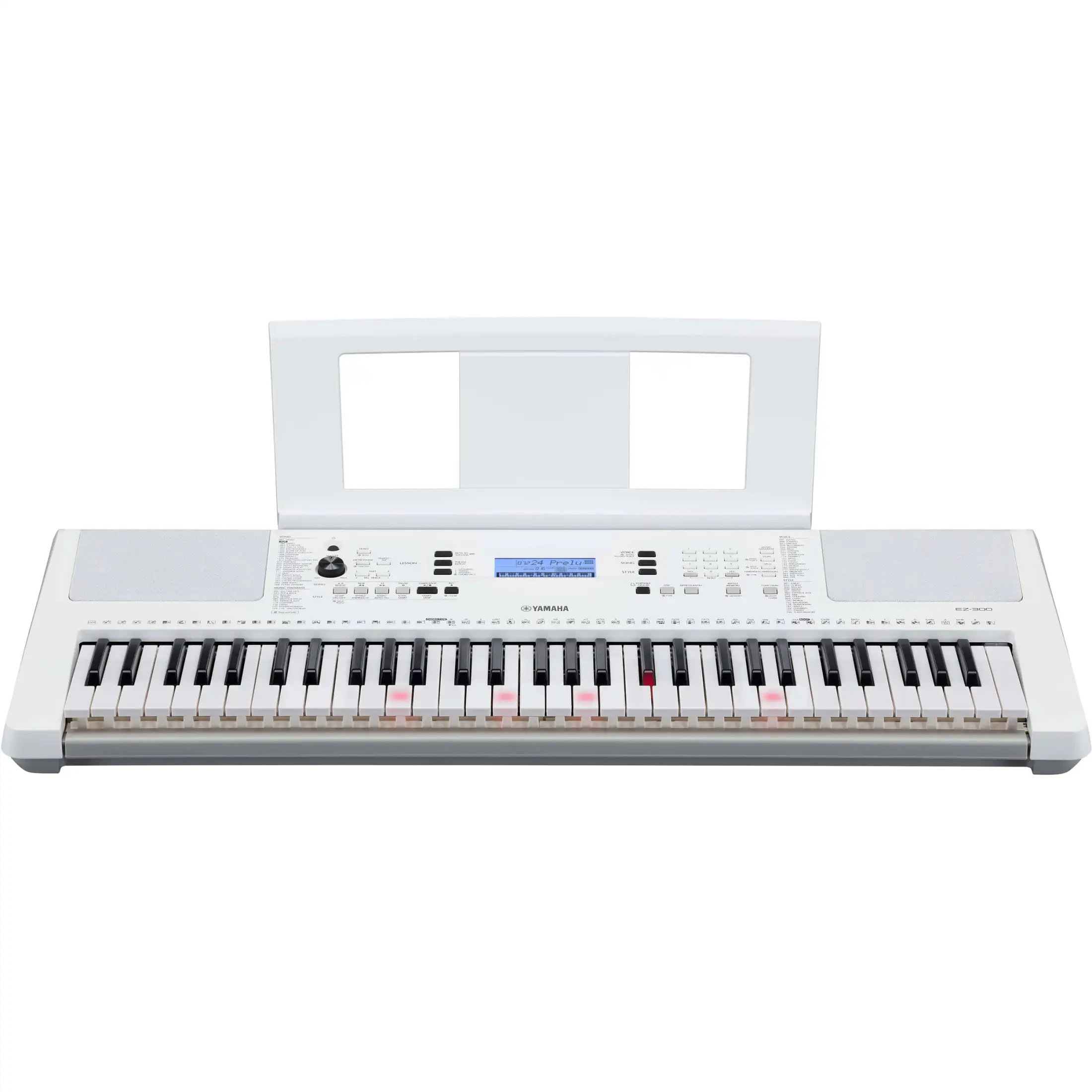 Learning Music Has Never Been Easier — Or More Fun!
Packed with smart features that make learning "EZ" and fun, the Yamaha EZ300 is perfect for those just getting started on their musical journey. Producing your own music has never been easier! This 61-key portable arranger keyboard gives you everything you need, starting with five octaves of lighted keys and touch sensitivity that captures the expressive dynamics in your playing. Don't know a shred of music theory? No worries — the keys on the EZ300 light up to show you the correct notes, while the Keys to Success learning system lets you learn songs at your own pace and the Touch Tutor lesson mode tracks how hard you hit the keys, reinforcing proper dynamics technique.
Packed with smart features — just follow the lights
With the Yamaha EZ300, you'll be making music as soon as you switch it on, even if you've never played before. All you need to do it follow the lighted keys! It has a Smart Chord feature that ensures you play correctly voiced chords, from simple triads to more complex 7th chords, with just a few fingers. With the EZ300, your music will sound great! It's loaded with Yamaha's Super Articulation! Lite Voices that reproduce the natural nuances of non-keyboard instruments when played on the keyboard.
Put it all together
When it's time to put it all together, Accompaniment Styles provide an instant backing band for your music, while you retain total control over chord changes and arrangements. Ready to take your music public? Built-in speakers and battery power make the Yamaha EZ300 ideal for busking in the park. With its onboard library of popular songs, which includes many hits, the Yamaha EZ300 is a exciting way to learn music at home or in the classroom with the youngsters in your life.
FEATURES :
Convenient Light Guide function shows you which notes to play with lighting keys
A total of 202 built-in demo Songs, including popular and famous songs, as well as pieces for study
Authentic and natural instrument Voices—622 in total—including actual samples of a grand piano
Variety of useful functions, including 205 dynamic auto accompaniment Styles that power your performance
Song expansion feature that lets you play and practice your favorites
Elegant silver-white finish that enhances any interior
 Package Include :  Headphone +  X Keyboard Stand + Sustain Pedal +Polish Cloth  + Note Rest  +Converter +  Adapter .
18 MONTHS WARRANTY