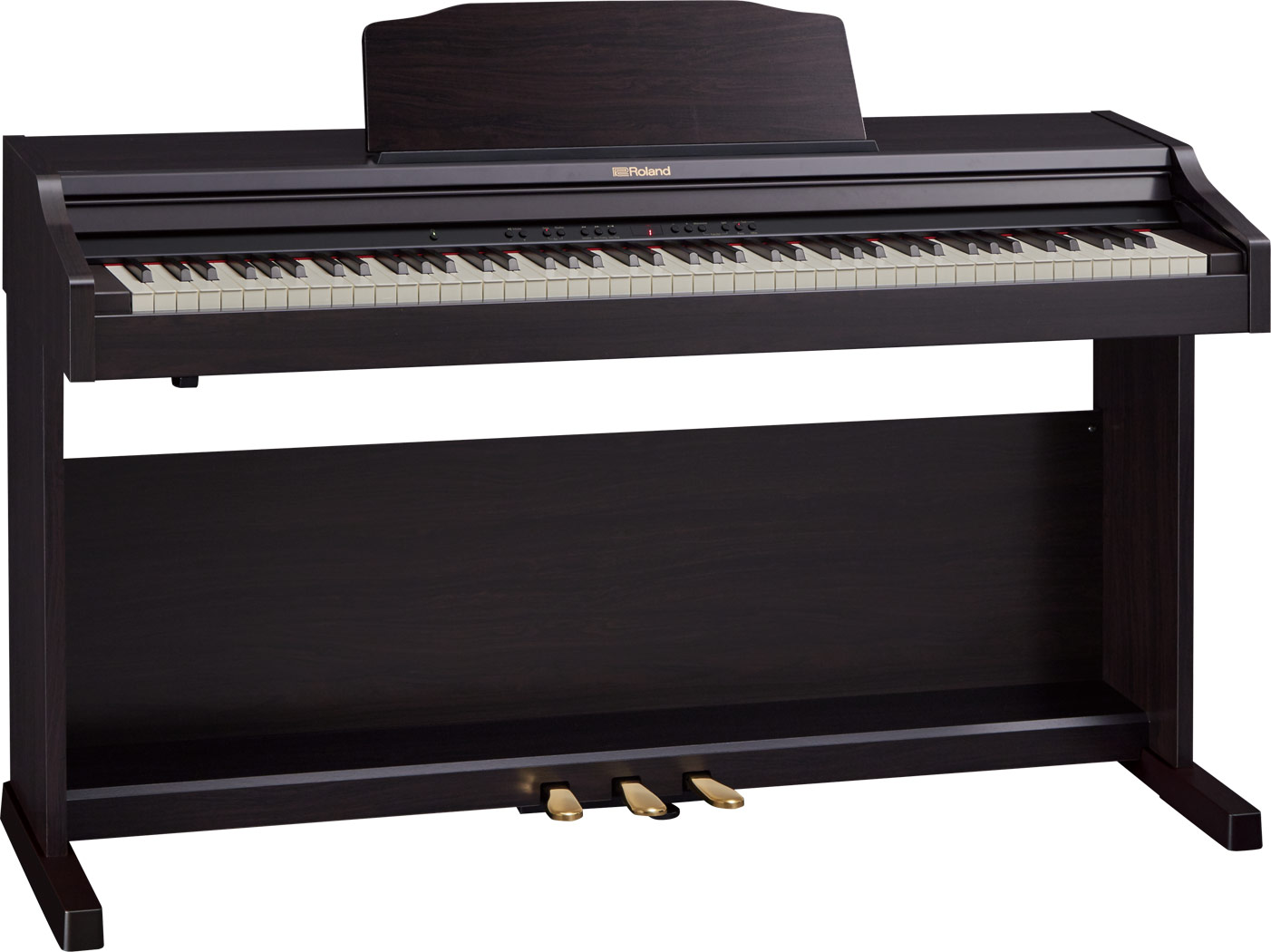 Features:
Roland's acclaimed digital technology in an attractive and affordable piano designed for the family home
SuperNATURAL Piano delivers the authentic tone of an acoustic grand piano
PHA-4 Standard keyboard features high-resolution touch sensing for expressive and responsive play
Progressive Damper Action pedal offers continuous response for half-pedaling and other traditional acoustic piano techniques
Headphones 3D Ambience effect provides a multi-dimensional sound experience when using headphones
Connect to a world of exciting apps such as Roland's Piano Partner 2, which encourages daily piano learning and makes practicing fun
Extensive onboard song library including scale-learning songs, plus metronome and recording functions to boost practice and learning
Sophisticated onboard Rhythm feature with intelligent accompaniment (72 different rhythm styles, including 6 pianist styles)
Space-saving cabinet with a choice of Contemporary Black, Contemporary Rosewood, or White finish.
Package Includes Piano Bench, Roland RH-5 Headphone, Power Adapter, Note Rest, and Tripedal with Stand.
2 Years Warranty
KEYBOARD
Keyboard: 88 keys (PHA-4 Standard Keyboard: with Escapement and Ivory Feel)
Touch Sensitivity: Key Touch: 5 types, fixed touch
Keyboard Mode :
Whole
Dual (volume balance adjustable)
Split (split point adjustable)
Twin Piano
Pedals
Damper (Progressive Damper Action Pedal, capable of continuous detection)
Soft (capable of continuous detection)
Sostenuto (function assignable)
SOUND GENERATOR
Piano Sound: Super-Natural Piano Sound
MIDI Format: Conforms to GM2, GS, X G-lite
Max. Polyphony: 128 voices
Tones Piano: 11 tones
Other: 305 tones (including 8 drum sets, 1 SFX set)
Stretched Tuning: 2 types (Always On)
Master Tuning: 415.3–466.2 Hz (adjustable in increments of 0.1 Hz)
Transpose: Key Transpose: -6–+5 (in semitones)
Effects: -Ambience (Off, 10 levels)
-Brilliance (21 levels)
-Only for Piano Tones:
-Damper Resonance (Always On)
-String Resonance (Always On)
-Key-Off Resonance (Always On
METRONOME
Tempo : Quarter note = 10–500 (When rhythm function turns on: Quarter note = 20–250)
Beat: 2/2, 0/4, 2/4, 3/4, 4/4, 5/4, 6/4, 7/4, 3/8, 6/8, 9/8, 12/8
Volume: 100 levels
SMF RECORDER
Parts; 1 part
Save Song: Standard MIDI Files (Format 0)
Songs: -Internal memory: Max. 10 songs
-External memory: Max. 99 songs
Note Storage: Approx. 30,000 notes
Control: -Song Select
-Play/Stop
-Rec
-Rewinding
-Fast-forwarding
-Top of song
-Part Mute
-Tempo
-All Songs Play
-Count-in
-Song Balance
Tempo : Quarter note = 10–500 (When rhythm function turns on: Quarter note = 20–250)
Resolution: 120 ticks per quarter note
RHYTHM
Rhythms: 72 types x 2 variations
Controls: -Rhythm Select
-Start/Stop
-Sync Start
-Intro/Ending
-Fill In
-Variation
-Leading Bass
-Auto Fill
-Rhythm Part
AUDIO
Playback: File Format: Audio File (WAV 44.1 kHz, 16-bit linear format)
Control:-Song Select
-Play/Stop
-Rewinding
-Fast-forwarding
-Top of song
-All Songs
-Play
-Song Balance
-Center Cancel
Bluetooth
MIDI, Turning music sheet: Bluetooth Ver 4.0
*The Bluetooth feature may not be available, depending on the country where the product is purchased.
OTHER
Display : 7 segments x 3 LED
Keyboard Lid: Slide type
Other Functions: -Panel Lock
-Auto-Off
Connectors
DC In jack
Input jack: Stereo miniature phone type
Output jack: Stereo miniature phone type
USB COMPUTER port: USB Type B
USB MEMORY port: USB Type A
Phones jacks x 2: Stereo miniature phone type, Stereo 1/4-inch phone type