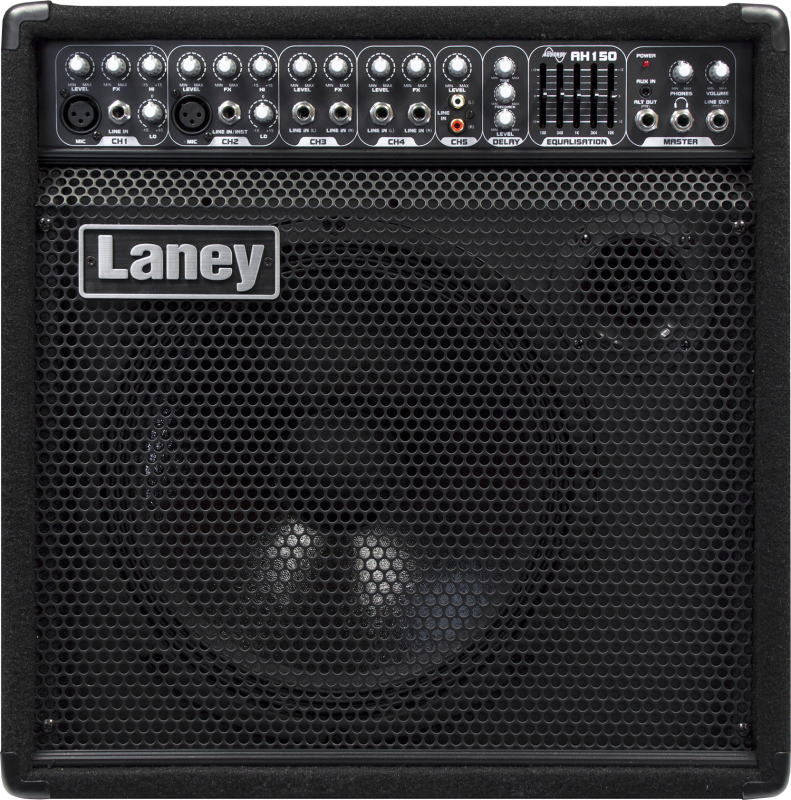 COMPREHENSIVE PRE-AMP
Designed with flexibility in mind, the AH150 has 5 channels with a variety of input options including XLR, Jack, RCA and Mini Jack. Each channel has a Level control and CH 1-4 also feature two-band EQ and FX send. The 5-band Master Graphic EQ provides control of the overall mix.
DIGITAL DELAY
The AH150 features on board Digital Delay with comprehensive control over Delay Time, Feedback and Level. In addition Digital Delay level can be adjusted independently on CH 1-4 via their FX send controls.
OUTPUT OPTIONS
The AH150 has a comprehensive selection of output options: Line Out is post master volume, so is ideal for linking to another amplifier or PA whilst retaining control from the AH150. Alt Out sends the mix pre Graphic EQ, Master Volume and Aux in. This defers master control to front of house or works as a record out without including the backing tracks. A Phones connection with Level control allows headphones for silent use or performance monitoring.
PERFORMANCE
Rated at 150 Watts RMS and housing a 1 × 12" Custom Designed Driver and HF Horn the AH150 cuts an imposing line.
Specifications:
The principle behind the Audio hub range is simple: ALL INSTRUMENTS WELCOME!
Audio hub combos deliver optimum performance, flexibility and sound quality for a wide array of audio inputs: Keyboards, e-drums, mics, acoustic and electric instruments and playback are all at home with an Audio hub combo.
Comprehensive Pre-Amp
Digital Delay
Features:
5 Channels – all instruments welcome
FS1-MINI sold as accessory
Line out
Line in
XLR, jack and mini jack inputs
1 x 12" Custom woofer & tweeter
Great for gigs – 150 Watts
Kick back format for personal monitoring
Master 5 Band Graphic EQ
FX Loop – insert type
1 YEAR WARRANTY