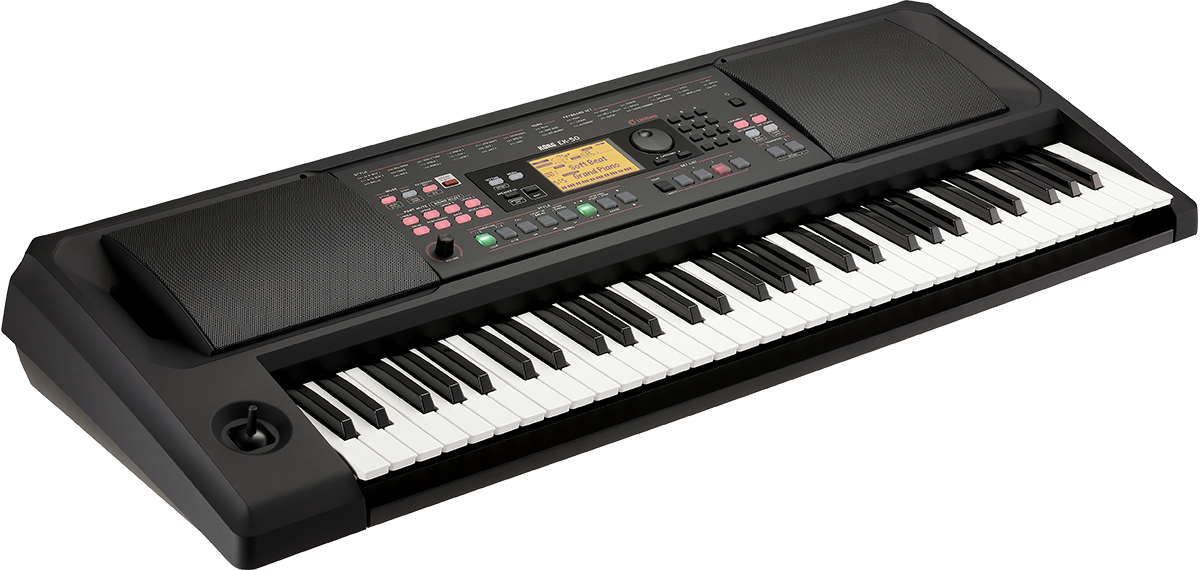 With automatic accompaniment to instantly turn your playing into an entire ensemble, the EK-50 has become a go-to instrument for both beginners as well as advanced players. The EK50 L has the same great features, but double the speaker power. It has a specially designed speaker system that capable of delivering twice as much volume (*) as the EK-50, so you don't have to rely on a PA system. Like the EK-50, it can run on batteries, making it easy to take on the road for performance.

Additional sounds to support modern dance music
In addition to the wide range of sounds already on the EK-50, EK-50 L adds new sounds and backing styles. Newly added are 87 preset sounds, 18 preset drum kits, and 24 keyboard sets that each combine four parts. These additions supplement the presets of the EK-50 to put more sounds at your finger tip. Also added are 10 backing pattern styles. The new sound additions emphasize the most current, modern dance music styles.
FEATURES
790 sounds, 59 drum kits
290 auto-accompaniment styles
4 stereo multi-effects processors
Fast, intuitive control layout
Onboard audio player (MP3, WAV)
3.5mm stereo audio in jack
Custom LCD with backlighting
Built-in high-volume speakers
USB-to-host (MIDI over USB); USB-to-device
Play back your favorite songs while performing
Add Styles from KORG's extensive online library
SPECIFICATIONS
Sounds : 790 sounds, 59 drum kits (including GM compatible sound sets)
Keyboard sets : 200
Styles : 290 presets
2 intros, 4 variations, 2 fills, 1 count in/break, 2 endings, syncro start/stop, tap tempo,
Demo songs : 19 songs
Speaker System : Amplificasion: 10 W x 2
Speaker: 120 mm Double Corn speaker x 2 (Bass reflex box system)
Speaker efficiency (SPL): 94dB (1W, 1m) .
* Two times the volume feeling of EK-50
1 YEAR WARRANTY ONLY FOR WEST MALAYSIA