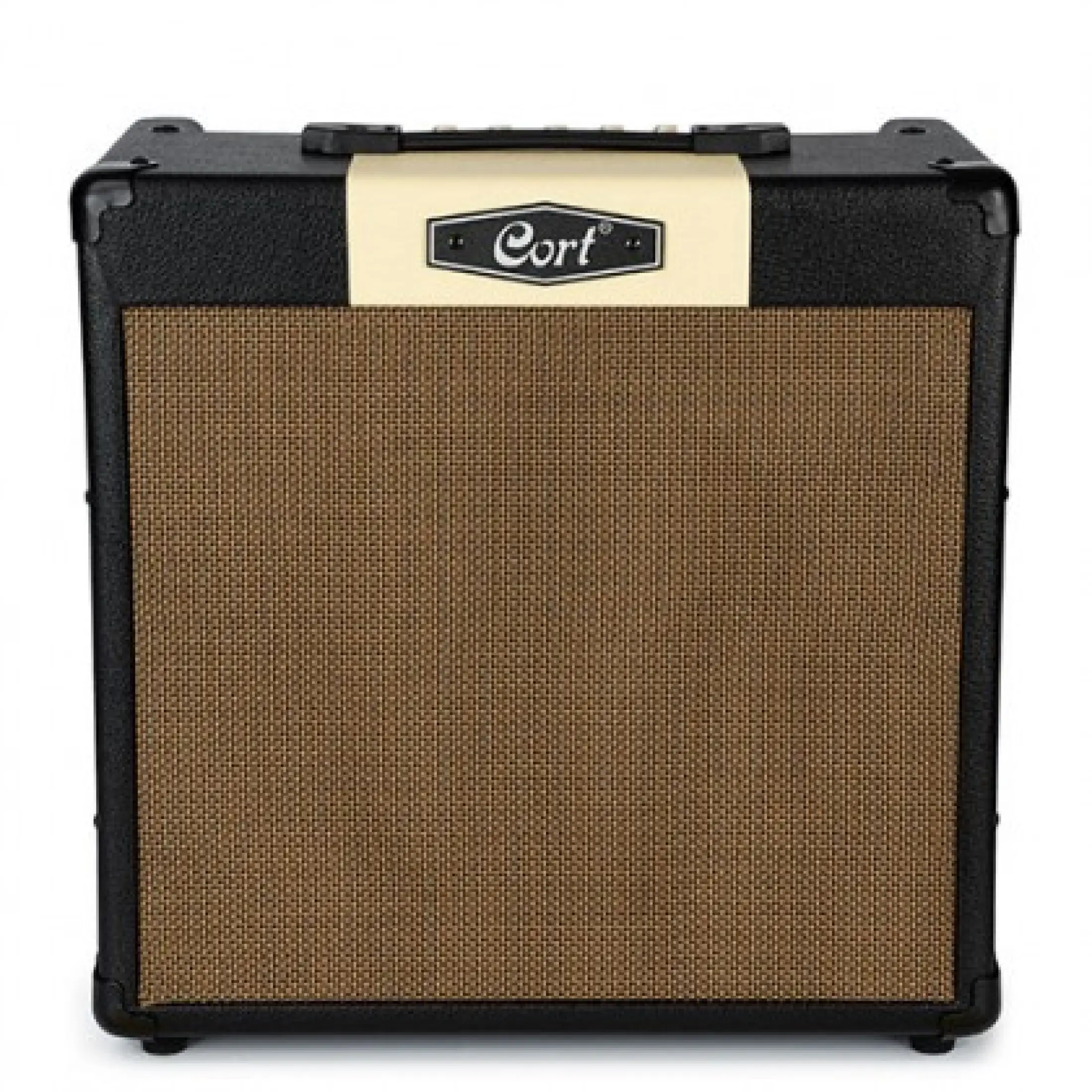 The new CM30R offers the same new enhanced exterior design as the 15R but with twice the power output for musicians who need a compact yet powerful amplifier for practicing with a loud band and performing in smaller-sized venues.
10″ Speaker
The compact 10" speaker is efficient with plenty of power-handling capacity and can get surprisingly loud, making it ideal for practice with other band members in a controlled volume environment. The sound is clear and balanced, allowing your playing style and character to come through without coloration.
Sound Controls
The CM30R offers a wide range of clean and overdrive sounds with a sparkling clean channel and a rich-sounding overdrive channel with independent gain and volume controls and a 3-band EQ with the treble, middle and bass knobs specifically tailored to the sonic range of the electric guitar.
Clean/Crunch & Gain Channel
Besides the new exterior, Cort's engineers have also worked extensively on redesigning the circuits to improve the sound quality as well as offering a wider range of usable guitar tones without adding more knobs and switches. The channel selector switch takes you from warm and sparkling vintage clean and crunch sounds to modern high-gain distortion sounds instantly while being sensitive to your guitar's volume knob changes and your pick attack. Whatever the setting, the new circuits provide versatility and flexibility while keeping the amplifier compact and portable.
Bluetooth Compatible
The CM30R is Bluetooth compatible so that you can stream music from your smartphone, tablet or computer to the amp and play along, making your practice sessions that more effective and enjoyable.
Digital Reverb
The warm and smooth-sounding digital reverb adds lush ambience to your guitar sounds and is tailored to the guitar's sonic range while providing settings from a small room to cavernous hall as you turn up the knob.
Aux In & Headphone Input
The Auxiliary input allows you to connect your smartphone or digital music player to the amplifier and play along with your favorite music. The headphone jack can be used to practice late at night or in quiet environments, making the CM30R a versatile amp that can be used in variety of playing situations.
Specifications:
INPUT VOLTAGE : Varies Depending on the Region
POWER REQUIREMENTS  : 70W
POWER OUTAGE : 30W R.M.S.
RATED LOAD IMPEDANCE : 8 Ohm
SPEAKER : Custom 10″ Speaker
DIMENSIONS : 380x365x200
WEIGHT : 9Kg
1 YEAR WARRANTY