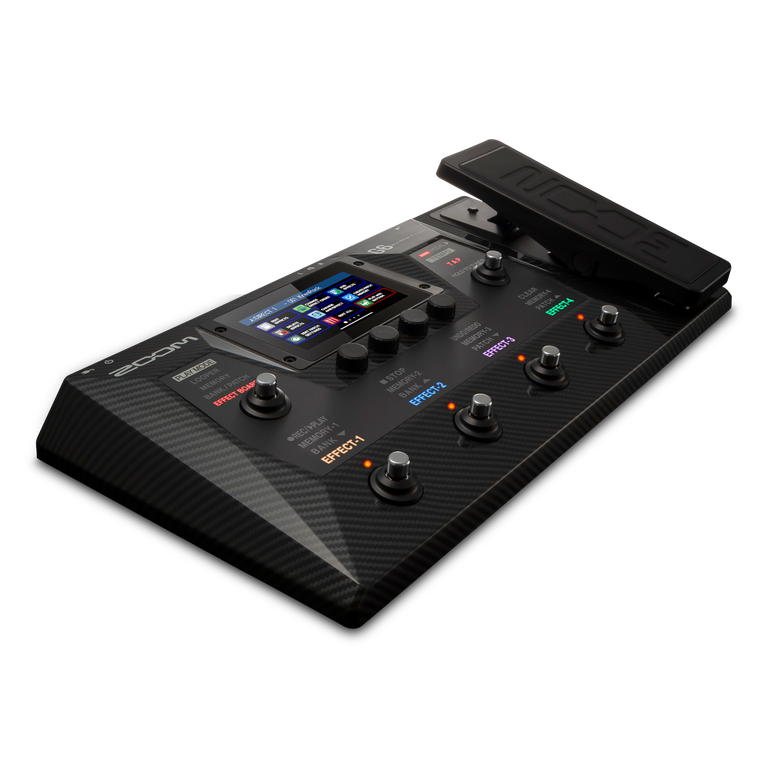 Zoom G6 Multi-Effects Processor Pedal with USB Audio Interface, Drum Machine, and Looper (G6)
DRAG AND DROP
Your sounds may be complex but building them shouldn't be. With easy-to-use application-driven technology, the G6's 4.3-inch color touchscreen lets you drag, drop and swipe your way to new sounds.
AMPS + CABS
All the best amps in amp history are in here (and a few new ones, too), along with 70 pre-loaded, precisely recorded impulse responses (IR) and room to add more than 100 of your own.
THE RIGHT SOUND
The G6 also delivers the ultimate collection of Zoom's legendary guitar effects and tones, including brand new Distortion and Modulation effects.
PLAN AHEAD
The G6 has room for 240 patches, including 100 presets so you can build patches for each song in your repertoire and easily cycle through your setlist. Create patches of up to seven effects.
Integrated pedal board with 6 stomp switches and expression/volume pedal
Ultimate Zoom FX processor technology with custom amp modeling
4.3˝ color LCD touch-screen interface
Chain up to 9 effects or 7 effects + amp emulation
IR load function for speaker cabinet simulation
New Play Mode Footswitch provides instant access to different play modes
68 rhythm patterns
Looper with loop time up to 2 hours with SD card installed
Built-in USB audio interface (2-in / 2-out)
Compatible with Zoom Guitar Lab
Wireless control via optional Bluetooth adapter (BTA-1) with Handy Guitar Lab app (iOS)
1 YEAR WARRANTY