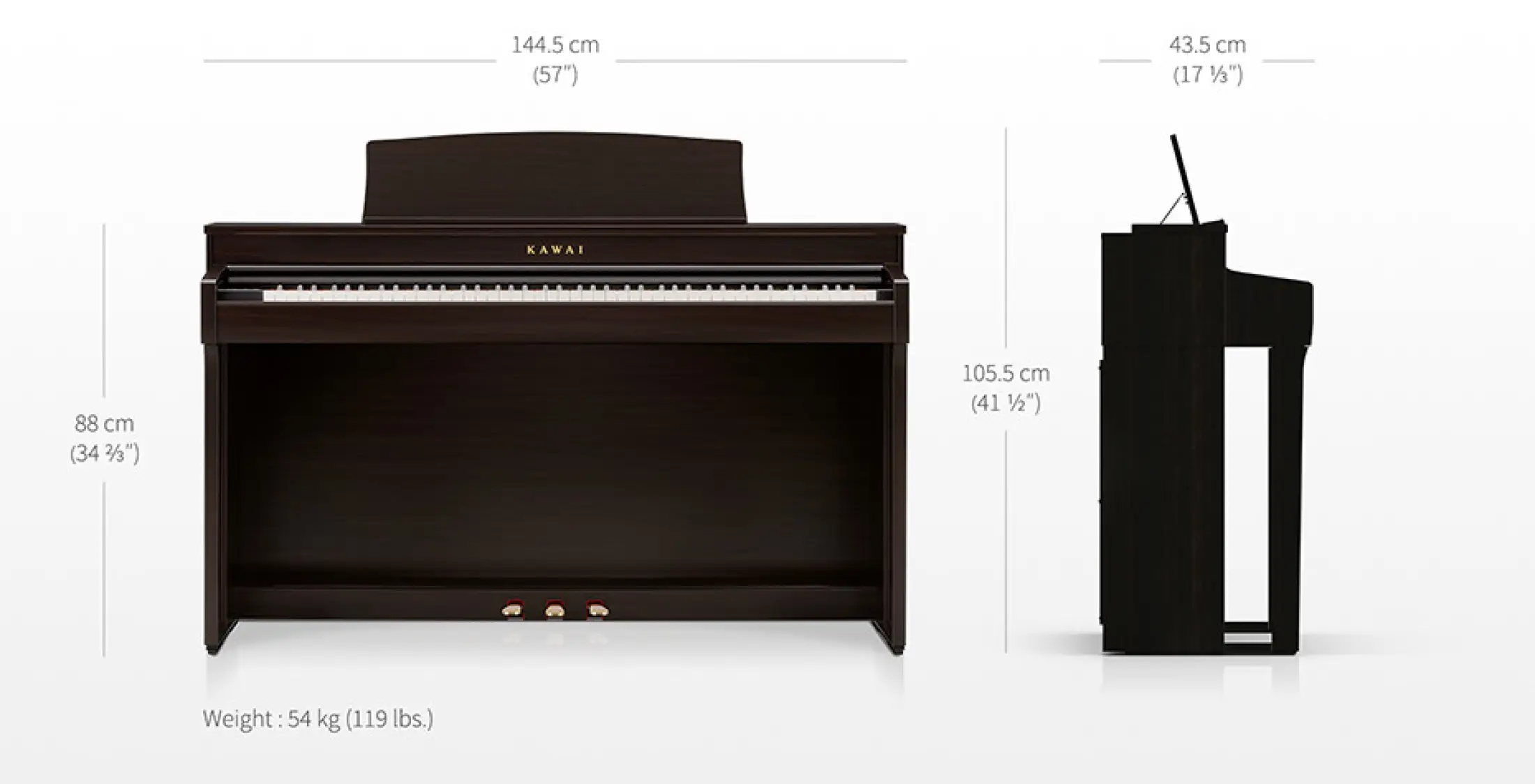 CN39
A new standard in digital piano value and performance.
Combining the class-leading Responsive Hammer III keyboard action and stunning SK-EX, SK-5, and EX grand piano sounds, with a powerful Onkyo 4 speaker delivery system, convenient USB audio features, Bluetooth® connectivity, and a broad selection of sounds, the CN39 delivers impressive specifications at an unbeatable price.
Experience music, together.
Kawai's latest CN series digital pianos provide a realistic full-sized keyboard, beautiful grand piano sounds, and headphone jacks that allow silent practise at any time of the day. These affordable instruments also offer a variety of inspiring features suitable for everyone in the family, and have attractive cabinet designs that will complement any room. The new CN series from Kawai – experience music, together.
The Touch of a Grand Piano: Responsive Hammer III keyboard action
The CN39's class-leading Responsive Hammer III keyboard action recreates the supreme touch of an acoustic grand piano, with its realistic movement and rigid, springless design providing a smooth and natural piano playing experience. The instrument's triple-sensor key detection system enhances responsiveness and accuracy, while structural reinforcements throughout the action assembly help to minimise noise and key wobble during staccato and fortissimo passages.
Authentic 88-key Counterweights
In addition to grade-weighted hammers, the Responsive Hammer III keyboard action also features counterweights embedded within each black and white key.
As with an acoustic piano, these finely balanced weights help to lighten the touch of the keyboard during pianissimo passages, while adding a feel of greater substance when playing with force.
Triple sensor key detection
The Responsive Hammer III keyboard action utilises an accurate triple-sensor key detection system for enhanced playing realism.
The added third sensor improves responsiveness when playing the same key repeatedly, and unlike conventional two sensor keyboard actions found inmany digital pianos, allows the sound of a single note to be gradually 'layered' without the previous tone being lost.
In addition, Kawai's action technology also monitors the speed at which each key is lifted, influencing the release character of piano sounds, and providing a greater range of expression between staccato and legato playing.
Ivory Touch key surfaces
The impressive CN39 features Kawai's highly regarded Ivory Touch key surfaces as standard. This finely textured material gently absorbs fingertip perspiration and oils to assist playing control, and possesses a natural, matte finish that is smooth but not slippery.
Furthermore, this moisture is absorbed without dirt or grease permeating the surface, allowing the keytops to be wiped clean easily using just a damp cloth.
Let-off Simulation
As the most authentic digital piano keyboard action in its class, Responsive Hammer III even reproduces the 'let-off' characteristic of acoustic piano actions.
This subtle 'notch' sensation can be felt when playing the keys of a grand piano very gently, and may be used by experienced pianists to aid control when playing pianissimo passages.
Specifications:
Class-leading Responsive Hammer III keyboard action
 Ivory Touch key surfaces, triple sensor, let-off, counterweights
 Progressive Harmonic Imaging sound with 88-key sampling
 Shigeru Kawai SK-EX & Kawai EX concert grand piano sounds
 Powerful four speaker delivery system developed with Onkyo
Integrated Bluetooth® MIDI and Audio wireless technology
 MP3/WAV/SMF playback, record, and overdub to USB
 Built-in classical etudes and Alfred lesson books
 Spatial Headphone Sound for enhanced depth and realism
 Attractive cabinet with cheek block control panel and OLED display
Free OneOdio Pro-10 Headphone
Piano Bench Included
Limited 1 Year Warranty, Extendable to 3 Years upon Registration