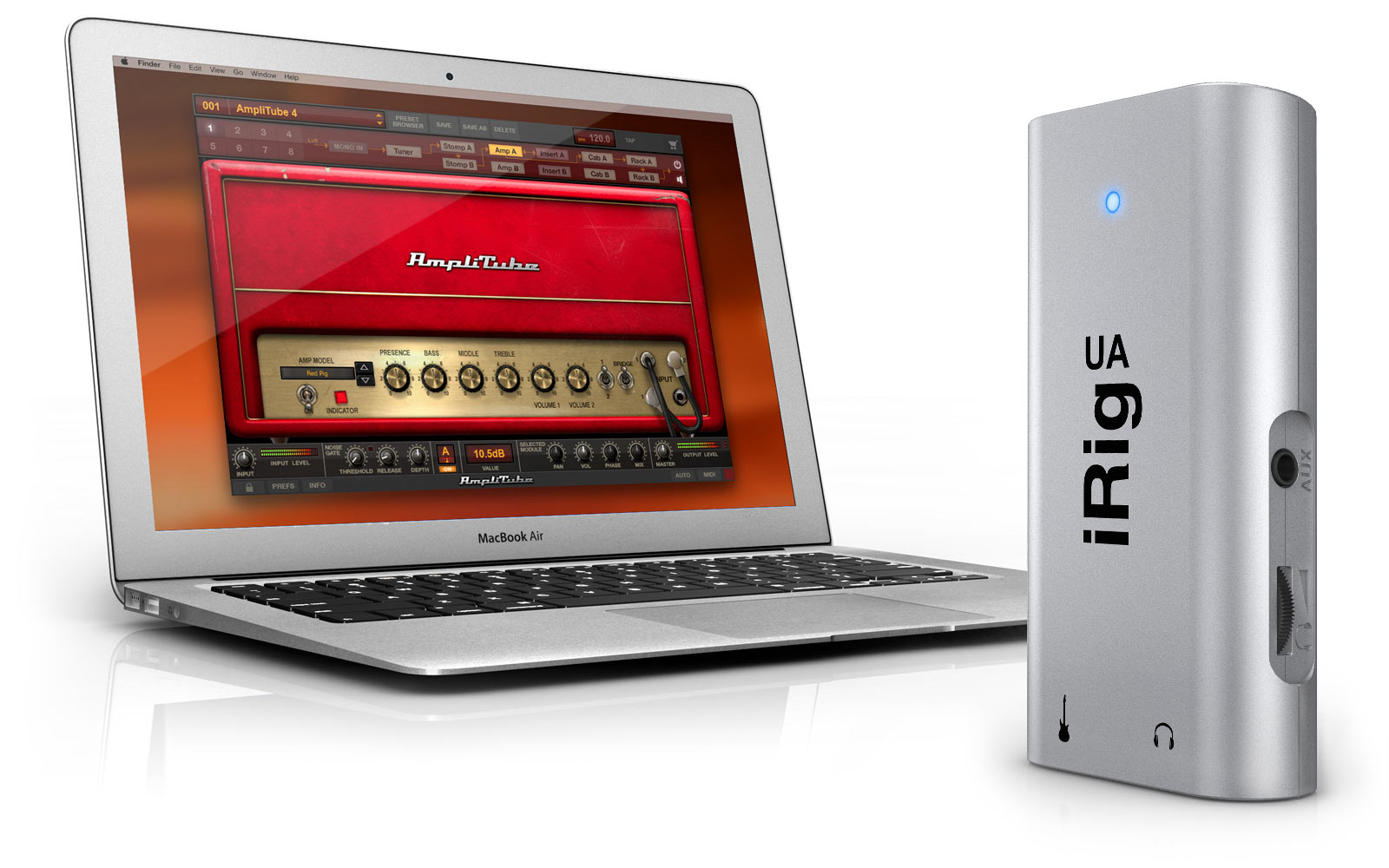 A new era of mobile music making on Android has arrived: iRig UA is the first digital effects processor and audio interface that lets you play your guitar, bass or other instrument on your Android device anytime and everywhere. It pairs with AmpliTube UA to deliver jaw dropping and absolutely unmatched sonic performance with any smartphone or tablet with Android 4.2 or higher (and that supports host mode/USB OTG). Now you can enjoy high-quality real time effects processing on your Android device no matter whether it's from Samsung, Sony, Motorola, LG, HTC, Xiaomi, Marshall or any other popular manufacturer.
iRig UA sounds phenomenal and the reason for this is due to its built-in digital signal processor (DSP). This cutting-edge on-board processor is a first-of-it's-kind solution that solves the issue of latency on the Android platform by moving all processing to an external accessory. iRig UA's DSP has been designed to work with a companion app, AmpliTube UA. The app, which comes with iRig UA, is powered by the DSP.
Like other versions of AmpliTube, it provides you with an amazing collection of virtual gear that you can use to create your own personal dream guitar or bass rig. A versatile system, iRig UA can also be used as a 24 bit digital recording audio interface when it's connected to either a Samsung Professional Audio-compatible or Android 5.0 device or a Mac or PC (requires USB to Micro-USB cable).

Plug-and-play
iRig UA sounds great right out of the box. Just plug it into your Android device via the included OTG connector and you'll be ready to go. It features a built-in 32-bit digital signal processor, a 24-bit A/D converter, a crystal clear low-noise preamp and an ultra-compact enclosure. With its premium specifications, it's able to provide great sound, extreme portability and unprecedented cross-platform compatibility. And these features all come in handy when iRig UA is plugged into a Samsung Professional Audio compatible device (with Android 5.0). You can use it as a pro-quality digital audio interface with Samsung Soundcamp, a full-fledged DAW music studio app that lets musicians record and compose while on the go.
iRig UA's on-board digital signal processor works in conjunction with AmpliTube UA, a special version of IK's powerful guitar and bass multi-effects processor designed specifically for use with iRig UA — because all of the processing is handled on iRig UA, and not on the Android device, it's able to provide consistent near-zero latency performance (down to 2 ms round-trip total latency) that's independent of the make and model of your connected smartphone or tablet.
iRig UA also makes for an excellent portable audio interface for your Mac or PC. Just get a USB to Micro-USB cable and you'll be ready to play, process and record with the full power of your favorite music creation software. iRig UA works effortlessly with IK's own AmpliTube Custom Shop, a version of the legendary guitar and bass tone studio that includes a base library of 24 pieces of gear that can be expanded via the whole universe of brand name amps, stompboxes, cabinets and mics available for purchase via Gear Credits in the Custom Shop. And, if you register your iRig UA you'll get the bone-shatteringly brutal AmpliTube Metal collection, 25 Gear Credits and T-RackS Classic for free.
Specifications:
Works on any smartphone or tablet that supports Android 4.2 or higher and host mode/USB OTG
Works on Mac or PC via optionalUSB to Micro-USB cable.
Near-zero latency digital FX processing
Digital audio recording on Android 5.0 and Samsung Professional Audio Devices as well as Mac and PC
32-bit digital signal processor
24-bit converter, 44.1kHz sample rate
High-definition, low-noise preamp
IncludesAmpliTube UA
Registration unlocksAmpliTube Metal, 25 Gear Credits forAmpliTube Custom ShopandT-RackS Classicfor Mac/PC
Analog aux input for play-along and practice
Headphone output and volume control
Multicolor LED
Ultra-compact and lightweight design
Micro-USB port